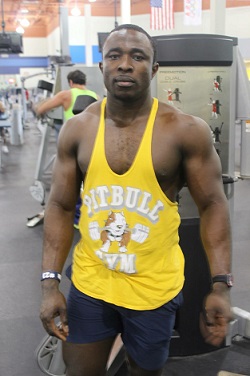 Brisley Ntoh
Fitness Trainer
My name is Brisley Ntoh. Mostly called Bruce Lee based on the similarities of names "Briz Lee". My mix martial art, boxing background and sense of humor made me the Blackanese or King of Africa
I remember being bullied and knocked out so many times in middle school as a kid. I was called Fat, Chubby, etc. My turning point came one day during a visit at my Uncle's place. I saw him throwing weights grunting at this enclosed basement with no shirts. I said this brother is jacked. I said I am going to be just like that. This is a secret I have never shared on my fitness journey. I stole the biggest of his weights, took it to my Mom's place, and started lifting with zero idea or experience. Sorry, this wasn't the days of YouTube, Google, Internet, etc. in Africa, but I felt a bond with the weight. Probably my first attempt was military press.
Through these personal experiences, coupled with science and relationships with some of the top in the fitness industry from body building, football, boxing, nutrition and supplementation, it has helped me for over 17 years to help hundreds of people of different walks of life.
Whether it be weight loss, beach body, prep coach, strength, speed, etc., I teach and train at the same time so when you're done with me, you can continue it as a lifestyle.
My question is, ARE YOU READY?